Media Player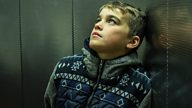 Sighthill
Documentary following the day-to-day life of some of the residents of Glasgow's Sighthill Estate before its last two blocks were demolished.
Ten massive tower blocks once stood tall at Glasgow's Sighthill Estate.
Built in the 1960s, this iconic development was home to thousands of residents before a historic regeneration project swept through the estate demolishing all the high rises over the past decade.
Sighthill tells the story of a handful of these residents who lived or frequented the almost empty remaining two blocks before demolition. New houses were being constructed in the shadow of the towers, signalling the beginning of an exciting new chapter for the people who were determined to stay and help rebuild this once thriving community.
Award-winning film-maker Darren Hercher follows the day-to-day existence of teenager Gary, who spent much of his troubled childhood in care and returns to Sighthill where most of his family still live. He faces one of the most challenging and uncertain periods of his life as his mother tragically dies.
Robert shares a bedroom with five sisters after his room became uninhabitable due to mould and dampness on the walls. A lively and energetic young boy, he dreams of moving into a new home and having his very own space again.
And Yonan, who arrived from Iraq as an asylum seeker, loves living in Sighthill after spending 13 years in an Iranian jail.
This is an intimate yet unflinching documentary exploring the final chapter of the old blocks and the beginning of a new era for the people of Sighthill.
First shown: 9pm 10 Jan 2017
Available for 16 days
Why?
Duration

60 mins
Ways to watch and tools