Media Player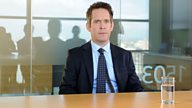 Rev.
-
Series 3: Episode 6
Sitcom about a vicar running an inner-city church. Adam attempts to find a new career outside the church - but is it really his destiny to be anything other than a vicar?
St Saviour's is closed, and Adam is determined to become a management consultant. But what will his not-so-merry band of congregants do without their vicar and their church? And can Adam really shrug off his vocation and his parishioners so easily?
First shown: 28 Apr 2014
Available for 15 days
Why?
Duration

28 mins
Ways to watch and tools