Media Player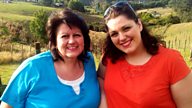 Wanted Down Under
-
Series 8: 12. Barker Family
Series in which families experience a trial week living in Australia or New Zealand. Can a daughter persuade her mum to move with her to New Zealand?
18-year-old Richelle and her mum Lorraine do everything together, but Richelle's dream to move to New Zealand means the pair could spend the rest of their lives on opposite sides of the world.
Richelle has one week in Auckland to persuade Lorraine that moving to New Zealand would be worth leaving her mum behind in Wales. And that's not all - for Lorraine, starting a new life at the age of 50 is a daunting prospect.
Will Lorraine's concerns be addressed or will Richelle and Lorraine's close bond be broken for good?
First shown: 9.15am 21 Jan 2014 4 days left Duration 43 mins
Ways to watch and tools