Media Player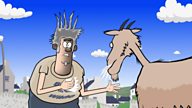 Fraochy Bay
-
Series 4: 10. An gobhar acrach/The Goat Opus
Tha Stiophan na eiginn. A writer is experiencing a dry spell, but one night he gets inspiration from a dream and rushes to write it down.
Tha Stiophan na eiginn. Chan eil moran feum ann a sgrìobhadair mar am bheil sgeulachd aige. Aona oidhche ann am bruadar tha e a' faighinn urachadh agus chan e ruith ach leum gus na facail a chuir air paipeir. Tha a h-uile cail a' dol gu math gus an glac na duilleagan aire faoileag is gobhair.
Writer Stephen Smallberg is experiencing a dry spell. One night he gets inspiration in a dream and on waking rushes to commit the words to paper. Unfortunately a seagull and a goat also have their eyes on this tasty morsel!
First shown: 22 Jun 2013
Available for 20 days
Why?
Duration

5 mins
Ways to watch and tools