Media Player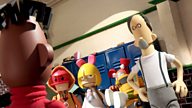 Strange Hill High
-
Series 1: 3. The Lost and Found Boy
Animated series set in an inner-city school. Things have been disappearing around Strange Hill High and the headmaster suspects that Mitchell is the culprit.
Things have been disappearing around Strange Hill High. Lots of things, including Templeton's pants. As the new kid, suspicion falls on Mitchell. With his smart-mouthed attitude and natural defiance of authority, Mitchell has unwittingly positioned himself as the prime suspect - especially in Headmaster Abercrombie's eyes. Mitchell tries to clear his name with the help of Becky and Templeton. Our trio soon discover the Indiana Jones-like treasures of the vast school Lost & Found room, as well as its mysterious, annoying and possibly magical inhabitant, Peter Dustpan. Is it Peter who's been causing havoc around the school and if so, why? Will they escape from the Lost & Found room and Peter's irritatingly playful grasp? Will Mitchell clear his name? Will Templeton ever find his pants? The answer to all these questions is yes. It's how it all happens that'll surprise you.
First shown: 5pm 22 May 2013
Expires tomorrow 11:55am
Why?
Duration

23 mins
Ways to watch and tools