Media Player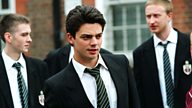 The History Boys
Film adaptation of Alan Bennett's acclaimed stage play, starring Richard Griffiths. Eight history pupils apply to Oxbridge but they are caught in a clash of education styles.
Alan Bennett's adaptation of his acclaimed, long-running play set in 1980s Yorkshire.
A class of likely lads, caught in a clash of educational styles as they prepare to apply to Oxford or Cambridge, find their loyalties as well as their intellects tested.
First shown: 2006
Available for 24 days
Why?
Duration

108 mins
Ways to watch and tools