Media Player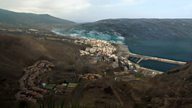 Could We Survive a Mega-Tsunami?
Hollywood-style graphics, real-life archive, and the chilling assessment of leading scientists tell the imagined scenario of the biggest wave ever seen.
Starting off a kilometre high, travelling at the speed of a jet aircraft, and heading for us. It doesn't make for a good outcome. Hollywood-style graphics and real-life archive brings home an imagined near-future scenario, all based on cutting-edge science.
First shown: 9pm 18 Apr 2013
Available until Mon 10:35pm
Duration

60 mins
Ways to watch and tools