Media Player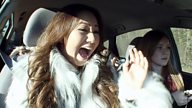 Barely Legal Drivers
-
Series 1: 2. Bradley and Kayla
Young drivers take to the road, unaware that their parents are watching. Should Jack-the-lad Bradley and daddy's girl Kayla be sent back to driving school?
We meet two teens who like to party - Jack-the-lad Bradley, who dreams of being a premier league footballer and Kayla, a loud and lairy daddy's girl.
Bradley's fantasy life of going to casinos and lying to girls that he's a professional footballer don't quite match the reality of an 18-year-old going to college. Living his life in the fast lane continues behind the wheel, much to the annoyance of his dad, Chris.
Kayla's classic role as a daddy's girl means she can get away with murder - which is almost what happens when she holds a house party. But it's her skills behind the wheel that her driving instructor dad really has trouble with.
With bickering, brawls and one of them even being over the legal limit the next morning, do either of these two barely legal drivers deserve their own car or should they go back to driving school?
First shown: 9 Apr 2013
Available for 19 days
Why?
Duration

60 mins
Ways to watch and tools