Media Player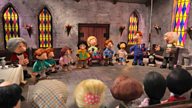 Postman Pat: Special Delivery Service
-
Series 2: 2. Postman Pat and Big Bob Bell
Children's animation. Pat tries to deliver a church bell, but the windy weather gets in the way and he has to take to the air.
Big Bob, the bell from the church tower of Reverend Timms's church, has been away to get mended. The children have prepared a special bell-ringing tune - Big Bob is coming back to Greendale. Pat has to deliver it to the church in time for the installation people to pop it in the bell tower. But what started as a windy day turns into a gale - trees are blown down, and the bell people can't get through! Pat needs to take to the air to make sure Big Bob Bell gets home in time for the children's song to triumph!
First shown: 7:30am 12 Feb 2013
Available until Tue 7:15am
Why?
Duration

15 mins
Ways to watch and tools