Media Player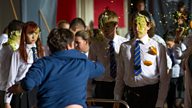 M.I. High
-
Series 6: 6. The Hive
Children's spy drama. A celebrity chef chooses the school to launch his new health drink, but Aneisha discovers that it makes everyone operate with a hive mind.
On a campaign to get kids eating more healthily, St Heart's school is chosen by celebrity chef Jimmy Jubbly as a test bed for his new health drink - Jubblyade. But Aneisha is quick to discover that it is affecting everyone's behaviour and making them operate with a hive mind. Under threat from her own team mates, can Aneisha single-handedly stop the teens of the nation from wreaking havoc countrywide?
First shown: 5:15pm 28 Jan 2013
Available until Wed 12:30pm
Why?
Duration

30 mins
Ways to watch and tools