Media Player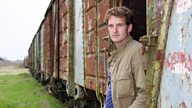 Locomotion: Dan Snow's History of Railways
-
Episode 3
Dan Snow traces the development of Britain's railways from the late 19th century to the outbreak of World War Two. During this time the railways changed the economy profoundly.
Over just 50 years, Britain's railways grew from a handful of small lines carrying coal to the biggest industry in the strongest nation on the planet. A nation had built the railways and now those railways would build a nation, influencing working conditions for its employees, proving a valuable export across the globe and even changing warfare.
Yet the story of railways up until the beginning of the Second World War concerned who they really belonged to - the private rail companies who were obsessed with profit, the public who rode them, or the government, who needed them at times of crisis but was reluctant to regulate.
First shown: 9pm 29 Jan 2013
Available until Tue 8pm
Why?
Duration

60 mins
Ways to watch and tools