Media Player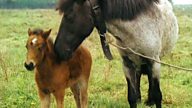 Britain on Film
-
Series 1: 7. This Sceptred Isle
A look at the short 1960s films that documented unusual British customs, rituals and traditions, as people preserved the idiosyncratic aspects of national life.
In 1959, Britain's biggest cinema company, the Rank Organisation, decided to replace its newsreels with a series of short, quirky, topical documentaries that examined all aspects of life in Britain. For the next ten years, Look at Life chronicled - on high-grade 35mm colour film - the changing face of British society, industry and culture. Britain on Film draws upon the 500 films in this unique archive to offer illuminating and often surprising insights into what became a pivotal decade.
This episode examines Look at Life's quirky films that documented unusual or eccentric British customs, rituals and traditions. In an era where many Britons embraced change as never before, these revealing and highly entertaining films show that people were determined to preserve the idiosyncratic aspects of our national life.
First shown: 8:30pm 28 Jan 2013
Available for 20 days
Why?
Duration

30 mins
Ways to watch and tools