Media Player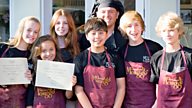 Show Me What You're Made Of
-
Series 2: 5. Chocolate
Documentary series where British kids experience work in factories in Asia. It's on to the final workplace and every kid's dream come true - a chocolate factory.
Five pampered British kids embark on the adventure of a lifetime, travelling across Asia to work and live alongside the people who make their favourite things.
It's the final leg of their trip and every kid's dream come true - working in a chocolate factory. As Indonesia is the world's third largest producer of cocoa beans, the kids have come to Jogjakarta on the island of Java to start making chocolate bars. But will they be able to follow the strict hygiene rules and observe the cardinal rule of chocolate makers - do not eat the product? Outside of the chocolate factory, some of them join kids at a local school to see how it compares with their own experience of school at home. Finally, as their big adventure comes to a close and they return to their families, has what they've learnt as workers in five different factories made any difference to their behaviour back in the UK? Presented by Stacey Dooley.
First shown: 21 Dec 2012
Available until Sun 11:25am
Why?
Duration

30 mins
Ways to watch and tools