Media Player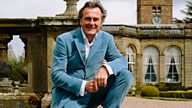 Flog It!
-
Series 11: 22. Stockport
Antiques series. Flog It! comes from Stockport Town Hall. Paul Martin is joined by Mark Stacey and Philip Serrell who choose a selection of antiques for auction.
Flog It! comes from the resplendent Stockport Town Hall in Greater Manchester.
Paul Martin and experts Mark Stacey and Philip Serrell value all manner of antiques and pick out a selection of their favourites to be filmed at auction. Philip spies an unusual inkwell shaped like a policeman's helmet, whilst Mark falls for a hand-painted Japanese Kinkozan vase that makes a big impression in the saleroom.
Paul takes time out to indulge his love of sport and visits Old Trafford stadium, where he meets one of Manchester United's goalkeeping heroes, Alex Stepney.
First shown: 23 Nov 2012
Available for 19 days
Why?
Duration

35 mins
Ways to watch and tools