Media Player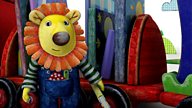 Driver Dan's Story Train
-
Series 2: 39. Remote Controlled Jelly
Animation. Tallulah asks Bippity to make her toy elephant move by remote control. Featuring the story Imagine.
Driver Dan goes on another exciting journey to Story Corner with a lovable cast of animated friends.
Tallulah loves playing with her favourite toy elephant, Jelly, who she pulls along behind her tail with a piece of string. But sometimes the string comes undone and Tallulah loses Jelly, and worries that she might not find her again. When Tallulah sees Bippity and the Vrooms playing with a remote-controlled toy train, she loves how fast it goes and how it can drive around on its own, so she asks Bippity if he can make Jelly remote controlled too. But when Jelly races around making lots of noise, Tallulah soon begins to miss her old favourite Jelly on a string.
Featuring the story Imagine.
First shown: 6pm 12 Jul 2012
Expires tomorrow 1pm
Why?
Last Chance
Duration

11 mins
Ways to watch and tools