Media Player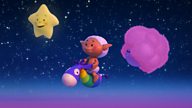 Cloudbabies
-
16. Little Star Flies High
Animated series about the Cloudbabies, who look after the sky. Little Star desperately wants to be a shooting star, but will he get his moment to shine?
Baba Blue and Rainbow are slinging stars into the sky, watched by Bobo White, Fuffa Cloud and Little Star. Bobo and Fuffa think the shooting stars are the best thing in the sky. A little downhearted that his friends did not choose him as the best thing in the sky, Little Star resolves to be a shooting star.
But it is time for bed. Baba Pink puts him in his cot, but as soon as her back is turned, he is up again. He practises throwing himself off a cloud but it does not work. Baba Pink finds him and puts him back to bed again. Once she has gone, he is up again. This time, he collects all the shooting stars off the star tree, but on hearing that Baba Pink's going to check up on him, he abandons the basket of stars in the stables and rushes back to bed.
Meanwhile, the Cloudbabies find that the star tree is bare. How will they light up the night sky without shooting stars? Little Star, who is now officially up, realises the gravity of his actions and retrieves the basket of shooting stars from the stables and confesses. The Cloudbabies take pity on him. After all, he only wanted to be a shooting star. Baba Blue lets him into the slingshot and slings him up into the night sky. Little Star is a shooting star after all.
First shown: 11:25am 15 Aug 2012
Available until Tue 7:10am
Why?
Duration

10 mins
Ways to watch and tools