Media Player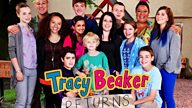 Tracy Beaker Returns
-
Series 3: 8. Reward
Drama set in a children's home. When Tracy agrees to write the annual awards certificates, a chain of unintentional consequences leads to Johnny carrying out a robbery.
It's rewards time again - the annual event at the town hall at which all the local young people in care get an award for the one thing that makes them special. Tracy's doing the certificates for the Dumping Ground, but can't think of one for Johnny. She asks Tee to help, but Johnny overhears them discussing his lack of special qualities.
First shown: 5pm 17 Feb 2012
Available until Wed 6pm
Why?
Duration

30 mins
Ways to watch and tools