Media Player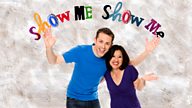 Show Me Show Me
-
Series 3: 20. Spiky Things and Pineapples
Chris and Pui investigate and explore in their magical playroom in the sky. Chris and Pui and all the toys find all kinds of things with spikes.
Teddington arrives with an amazing new spiky hairdo. Chris and Pui have fun with spikes, having a look through the telescope to find spikes in the world outside. Then Pui thinks of something really spiky - a pineapple. Chris explains how to get rings from a pineapple, before going on a pineapple safari with Teddington to find out where they grow.
First shown: 1:05pm 12 Feb 2012
Available for 7 days
Why?
Duration

28 mins
Ways to watch and tools