Media Player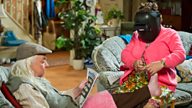 Mrs Brown's Boys
-
Series 2: 1. Mammy Pulls it Off
Comedy series. Having faked Grandad's death, Agnes tries to keep him out of the way for long enough to fool the insurance company into paying out.
After faking Grandad's death, the Brown family are still waiting for the insurance money to come through. Agnes has promised the money to Dermot and Maria, who are desperate for a place of their own, but the insurance company is starting to get suspicious. Will Agnes be able to keep Grandad out of sight, or will one of the family give the game away?
First shown: 2 Jan 2012
Expires today 10pm
Why?
Last Chance
Duration

29 mins
Ways to watch and tools