Media Player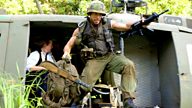 Tropic Thunder
Comedy. A troupe of pampered Hollywood actors are shooting a war film when suddenly they become caught up in a real conflict. Ben Stiller, Robert Downey Jr and Jack Black star.
Action comedy. While shooting the epic Vietnam War film Tropic Thunder, the production quickly derails thanks to the gigantic egos of everyone involved in the production - Tugg Speedman, an action hero trying to segue out of that genre and Jeff Portnoy, a drug-addicted fat comic also attempting to change his image by taking on such a serious film. They star alongside five-time Oscar-winner Kirk Lazarus, a man who insists on immersing himself totally in a role.
First shown: 2008
Available for 6 days
Why?
Duration

100 mins
Ways to watch and tools