Media Player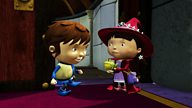 Mike the Knight
-
Series 1: 2. Evie's Birthday
Animated series about a young knight in training. Mike tries to organise a cake for Evie's birthday surprise.
Mike thinks the perfect birthday surprise for Evie is a knightly cake but, trying to keep the surprise, he will not let her join his mission. In the end, he learns that letting her do what she wants is a much better birthday gift.
First shown: 4:05pm 1 Nov 2011
Expires tomorrow 10:20am
Why?
Last Chance
Duration

10 mins
Ways to watch and tools