Media Player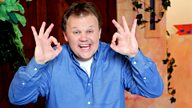 Something Special
-
Series 7: 5. Space
Educational series using Makaton sign language. Mr Tumble wants to get to the moon, so he looks for the things he will need.
Using a sign language called Makaton, Something Special helps its audience learn how to communicate as well as develop their language in a fun and exciting way. Justin Fletcher presents songs, rhymes and visual humour, all centred around themes that are familiar to young children.
Mr Tumble wants to get to the moon, but he needs a rocket and a space suit. He can build a rocket, but where will he get a space suit from? Maybe the other Tumbles can help?
Meanwhile, Justin is off to a space centre with his friend. They go on a journey into space as well.
First shown: 9:45am 23 Sep 2011
Available for 21 days
Why?
Duration

20 mins
Ways to watch and tools