Media Player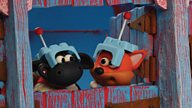 Timmy Time
-
Series 3: 7. Timmy Finds Aliens
Animated adventures of a lamb at nursery school. Timmy and his friends make a collage of the moon, complete with green aliens.
Stop-frame animation. Nestling in gently rolling hills is Timmy's nursery school, cosily housed in some old farm buildings. Complete with messy play area, story corner and garden, this is the perfect place for a lamb to start finding his place in the world.
Timmy is fascinated by the moonscape collage that he and his friends make - especially the little green aliens that live on the moon. Finlay notices this, and with Harriet and Osbourne's help, he gets his friends to trick Timmy into thinking that aliens have landed at the nursery!
First shown: 7:45am 22 Mar 2011
Available until Fri 7:10am
Why?
Duration

10 mins
Ways to watch and tools