Media Player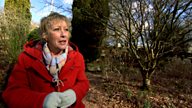 Life in a Cottage Garden with Carol Klein
-
Original Series: 1. Winter
Series following a year in Carol Klein's garden at Glebe Cottage. In January and February, the frosts of a hard winter have not yet released their grip on the garden.
In this new series plantswoman Carol Klein shares with us a year in her garden at Glebe Cottage in north Devon. Carol has looked after her garden for over thirty years and each year brings with it its own rewards and delights, as well as problems and challenges. Follow Carol as her garden grows, flourishes, dies and is reborn.
The first episode covers January and February. The frosts have not yet released their grip on the garden and the devastation of a hard winter is scattered all around. There is much to do; cutting back, preparing the soil and garlic planting. The first green shoots of the year begin to appear, as drifts of snowdrops carpet the woodland floor and hellebores reveal their ravishing colours. A local woodsman joins Carol to lay a native hedge. Slowly the first signs of spring appear.
First shown: 8.30pm 7 Jan 2011
Available for 10 days
Duration

29 mins
Ways to watch and tools