Media Player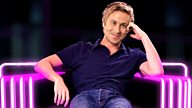 Russell Howard's Good News
-
Series 3: Episode 1
Topical comedy series hosted by Russell Howard, who offers his unique perspective on the big stories dominating the news outlets from online and print to broadcast.
Russell Howard presents the hit topical comedy show. Each episode is put together just 48 hours before transmission, and includes Russell's unique take on the big stories getting our news media in a flap. He also highlights some of the more overlooked items that have caught his eye during his forensic trawl through the newspapers, websites and TV stations.
The series is filmed in front of a live studio audience, but viewers at home are still able to shape the show's agenda by submitting news stories online at bbc.co.uk/russellhoward (where they will also be able to view exclusive extra features) or via Twitter @bbcgoodnews.
First shown: 21 Oct 2010
Available for 25 days
Why?
Duration

30 mins
Ways to watch and tools