Media Player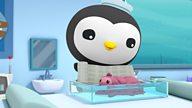 Octonauts
-
Series 1: 7. The Orcas
Animated deep sea adventures with Captain Barnacles and his band of explorers. An orca whale is stranded on a beach. The Octonauts come to the rescue.
The Octonauts roam the oceans in search of adventure and fun. Whether it's a perilous voyage to the bottom of the sea or the piratey pursuit of a giant squid, the Octonauts leap into action and always prove that eight heads are better than one!
When a huge orca whale becomes stranded on a beach, Captain Barnacles and the Octonauts devise a plan to pull him back into the water, with some help from a group of tunneling fiddler crabs.
First shown: 4.50pm 12 Oct 2010 Duration 11 mins