Media Player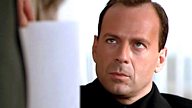 The Jackal
Violent action thriller about the FBI's attempts to catch a master of disguise who a Russian mafia boss has hired to kill a top figure in the US government. Starring Bruce Willis.
Violent action thriller. Russian mobster Terek Murad has declared open season on the Russian militia and the FBI over the shooting of his brother in a Moscow nightclub. He hires the Jackal, an anonymous highly-trained assassin, to kill the head of the FBI. With no other leads, FBI deputy director Carter Preston enlists the services of Declan Mulqueen, an imprisoned IRA sniper, to track the Jackal down.
First shown: 1997
Available until Sun 12am
Why?
Duration

119 mins
Ways to watch and tools