Media Player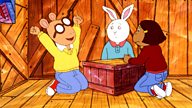 Arthur
-
Series 7: 1. Sue Ellen Gets Her Goose Cooked/Best of the Nest
Animation. Sue Ellen becomes obsessed with an internet game. Brain initiates a camping trip in the woods.
Sue Ellen is the champion of the popular internet game, Virtualgoose.com. She becomes so obsessed, however, that she starts imagining her friends as geese to be conquered! Can she give up the game before she finally quacks?
The gang moves onto a new game featuring five geese fighting to survive in a virtual forest. As their competition escalates, Brain is inspired to organise a camping trip in the real woods - but will any of his friends be willing to forego their computers for a real, live adventure?
First shown: 8 Apr 2004
Expires tomorrow 7pm
Why?
Duration

30 mins
Ways to watch and tools