Media Player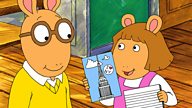 Arthur
-
Series 5: 10. My Music Rules/That's A Baby Show
Double bill featuring the young aardvark. The kids argue over whether jazz or classical music is better, and Arthur watches a TV show for babies.
It's the duel of the century as cellist Yo-Yo Ma faces jazz saxophonist Joshua Redman in the toughest gig of their careers - in the Elwood City Library! Whose music will rule after the greats fight it out in the battle of classical versus jazz?
Will Arthur be exposed for loving a TV show for babies? When he gets hooked on Love Ducks, Arthur tries to hide it from his friends - not an easy feat since it's on at the same time as the new Bionic Bunny spin-off everyone's talking about!
First shown: 10 Aug 2001
Available until Wed 7pm
Duration

25 mins