Media Player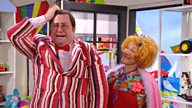 Grandpa In My Pocket
-
Series 5: 4. Wanda Whoops' World of Whooo
Children's comedy about a grandpa who can magically shrink. Mr Whoops' wacky sister Wanda is looking after the toyshop. Grandpa foresees trouble.
Mr Whoops' wacky sister Wanda comes to stay and persuades her brother to let her look after the toyshop. But Mr Whoops isn't sure he's made the right decision, because Wanda is known for getting carried away with her huge imagination. Grandpa foresees trouble and shrinks, making his way to the toyshop in Jason's toy plane.
Unfortunately, Wanda sees him arrive, but she just assumes that the plane is a fantastic toy. So when a little girl called Rosie comes to the toyshop looking for a new toy to buy, she persuades her to buy the plane. This is a disaster! But at least Grandpa has got out of the plane and is hiding amongst the toy shelves.
Of course, Rosie discovers that the plane doesn't fly and returns to the toyshop, asking for her money back. Wanda puts it down to Rosie's lack of imagination and insists on trying to make the plane fly. With Elsie's help, Grandpa allows himself to be found and is put in the plane as a pilot doll. He uses his magic and the plane takes off and flies out of the window. Wanda decides she has too much imagination to run a toyshop and decides to try the café instead.
First shown: 5:30pm 9 May 2014
Available for 28 days
Duration

12 mins
Ways to watch and tools