Media Player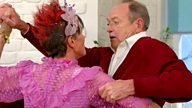 Grandpa In My Pocket
-
Series 4: 11. Dancing with Delight
Children's comedy about a grandpa who can magically shrink. A ballroom-dancing couple who are staying at the Mill have an unusual breakfast experience.
A ballroom-dancing couple, Demi and Danni Delight, are staying at the Mill on the Marsh, rehearsing their routine for a performance at Miss Smiley's cafe. Unfortunately, Great Aunt Loretta is in charge of breakfast and has come up with a disgusting concoction for her guests. Grandpa tries to stop her but she dismisses him from the kitchen. There's only one thing for it - he has to shrink. But Grandpa still fails to stop Loretta serving her terrible food to Demi and Danni and soon the couple are suffering from indigestion.
It's looking like the show will have to be cancelled, but Elsie comes up with a remedy for their poorly stomachs - fresh peppermint tea. Grandpa flies to Miss Smiley's cafe and picks some peppermint leaves, saving the day.
First shown: 5:25pm 10 Feb 2014
Available for 11 days
Duration

12 mins
Ways to watch and tools