Media Player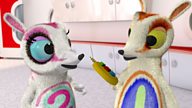 The Numtums
-
Series 2: 4. Numbot
Number learning series. The Numpups get a spring-cleaning robot but they send it out of control. Meanwhile Fluffy has a similar problem with her Go Faster Robot Trainers.
Gladdy calls it a dream come true when the Numpups send off for a spring-cleaning Numtum robot called a Numbot. That is until the Numpups' eager paws press the Go button too many times and the Numbot spins out of control and climbs up the Tasty Termite to give it a very deep clean. With the Tasty Termite under threat, can anyone stop the Numbot and save Gumnut Gorge?
Meanwhile, Fluffy is having similar problems with her Go Faster Robot Trainers. Fluffy's need for speed causes the trainers to move too quickly even for a naughty koala like her. It's down to Super Numtum to help her and save the day again.
First shown: 4pm 6 Feb 2014
Available until Sat 4:20pm
Duration

10 mins
Ways to watch and tools