Media Player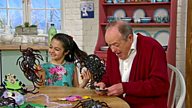 Grandpa In My Pocket
-
Series 4: 9. There Came a Big Spider
Children's comedy about a grandpa who can magically shrink. Grandpa and Elsie make spiders for a puppet play, but great-aunt Loretta goes into a panic.
Grandpa and Elsie are making Space Spiders for their Captain Dumbletwit puppet play but, unfortunately, today's the day great-aunt Loretta has decided to spring clean the Mill on the Marsh. great-aunt Loretta hates spiders, even puppet ones. She moves Grandpa and Elsie all over the house while she cleans, much to their irritation. Then Loretta finds a real, large, harmless spider and goes into a panic.
Grandpa gathers the spider into a duster and puts it outside, but it crawls back in. So Grandpa shrinks, gets under a puppet spider and chases the real spider down the mousehole. Finally, Elsie and Grandpa get the chance to perform their puppet play to Jason, Josh and great-aunt Loretta. But she just can't take any more spiders!
First shown: 6 Jan 2014
Available for 8 days
Duration

12 mins
Ways to watch and tools