Media Player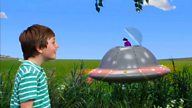 Grandpa In My Pocket
-
Series 4: 1. A Grandpa Made of Magic
Children's comedy about a grandpa who can magically shrink. Jason's cousins Elsie and Josh are let into the secret about Grandpa's magic shrinking cap.
The Mason family have moved to a windmill and opened a small hotel. Jason's cousins Elsie and Josh come to stay for the summer and Grandpa entertains them by dressing up as Captain Dumbletwit.
Now that Jason is a teenager, Grandpa decides that his other grandchildren should be told about his magic shrinking cap. Understandably, the children are utterly amazed, but promise to keep the secret.
It's not long before Grandpa finds a reason to shrink when special guest Olga Orbit arrives at the hotel. She is a famous space scientist who shares Grandpa's passion for Captain Dumbletwit. When Great Aunt Loretta has an accident with her laundry and her terrible pants end up in the conker tree, Grandpa goes to the rescue in the Captain Dumbletwit spaceship and Olga is extremely impressed!
First shown: 5:25pm 27 Jan 2014
Available for 22 days
Duration

12 mins
Ways to watch and tools