Media Player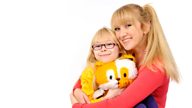 Melody
-
Series 1: 6. The Lost Bee
Preschool mixed-media music show. Melody listens to Flight of the Bumblebee by Rimsky-Korsakov and goes on a bee adventure.
Melody, Mum and Fudge are going on a picnic. On the way to the picnic, Melody can identify where she is by the various noises she hears - fountains, a car, rustling trees. They have their picnic in the park but can hear a bee buzzing around them.
Melody asks mum for some bee music. Mum has Flight of the Bumblebee composed by Rimsky-Korsakov on her MP3 player, which takes Melody on a bee adventure. Melody helps a lost bee find its way home by reminding it to remember all the things it saw on its way, when it left home.
On Melody's way home she remembers all the things she went past and can find her way home too.
First shown: 9 Dec 2013
Available for 10 days
Duration

10 mins
Ways to watch and tools