Media Player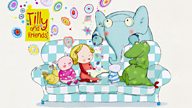 Tilly and Friends
-
14. Tilly No Tail
Animation. Tilly's friends decide to make her a tail so that she can dance and balance and bounce and swish like them.
Animation. Tilly and her five animal friends enjoy all the adventures the world around them has to offer.
Tumpty is doing the happy-tail dance, Doodle is doing the snappy-tail dance, Pru is shaking her tail feathers, Hector is doing a tail wiggle and even Tiptoe's tail is twinkling - but what about Tilly? Tilly doesn't have a tail! The friends all decide to make one for her, Tilly must have a tail if she wants to balance and bounce and swish and swat and fluff and flounce like them. Even Tilly is starting to wish she had one, but when she goes from no tail to five tails she discovers that life with a tail can be very tricky!
First shown: 8am 4 Oct 2012
Available for 14 days
Duration

11 mins
Ways to watch and tools