Media Player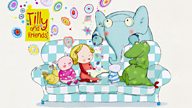 Tilly and Friends
-
11. Hector and the Big Bad Wolf
Animation. Hector gets nervous after hearing a story about a big bad wolf and refuses to come out of his den.
Animation. Tilly and her five animal friends enjoy all the adventures the world around them has to offer.
The friends are having a lovely time listening to Tilly telling the story of the Three Little Pigs. All except Hector, who is feeling rather nervous at the thought of the big bad wolf. He decides to hide in his den for safety, and nothing can persuade him to come out. Can Tilly come up with a story to make him feel brave again?
First shown: 8am 1 Oct 2012
Available for 12 days
Duration

11 mins
Ways to watch and tools