Media Player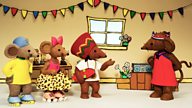 Rastamouse
-
Series 2: 9. Da Winner Is
Stop-motion series featuring a crime-fighting special agent who plays in a reggae band. Someone has stolen all of the trophies for the Golden Wensley Awards!
Stop-motion series featuring Rastamouse, Scratchy and Zoomer, crime-fighting special agents who solve mysteries and play in a reggae band.
It is the Golden Wensley Awards and the president is hard at work organising the event. He asks the Easy Crew to pick up the award statues but when they get to Fats' Garage the awards have all been stolen! Rastamouse and the Easy Crew follow a golden paint trail to track down a mouse who is hungry for fame. Rastamouse must come up with a prize winning plan to make the awards ceremony the best yet.
First shown: 5.15pm 30 Aug 2012
Expires tomorrow 5:10pm
Duration

10 mins
Ways to watch and tools