Media Player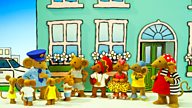 Rastamouse
-
Series 2: 7. Over Da Moon
Stop-motion series featuring a crime-fighting special agent who plays in a reggae band. Wensley Dale prepares to be the first mouse in space amidst a strange mystery.
Stop-motion series featuring crime-fighting special agents Rastamouse, Scratchy and Zoomer. They solve mysteries and have adventures. They're the best throughout the land, cool and brave and funky, and they play in a reggae band.
There's a mystery in Mouseland as Bandulu's cheese goes missing, along with a pot of glitter from the orphanage - and Wensley Dale's flat-screen TV is no longer where it should be! But the president has no time to worry, as he is going to be the first mouse to go into space in Professor Branston's new space rocket. Everyone is excited by the prospect of a journey into space but the Easy Crew keep their paws firmly on the ground as Rastamouse thinks he knows what's going on with all the missing things.
First shown: 5.15pm 28 Aug 2012 3 days left Duration 10 mins
Ways to watch and tools