Media Player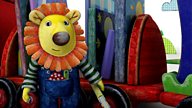 Driver Dan's Story Train
-
Series 2: 44. Flower Power
Animation. Bippity invents something special to help Sweetie's garden grow faster. Featuring the story Mia's Time To Shine.
Driver Dan goes on an exciting journey to Story Corner with a lovable cast of animated friends.
Bippity wants to hurry to Story Corner but there are lots of chores to finish in Sweetie's garden before they can all leave. Bippity thinks that real plants and flowers take too much time to dig and water, so he invents some metal flowers for Sweetie so that she won't need to do her gardening chores.
Sweetie doesn't really like the metal flowers so she tells Bippity how much she loves working in her garden with real plants and flowers, even if it does take a long time. Then Bippity has a brilliant brainwave and comes up with an invention that is lots of splashy fun for the garden and for Driver Dan's friends.
Featuring the story Mia's Time to Shine.
First shown: 6pm 19 Jul 2012 1 day left Duration 11 mins