Media Player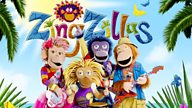 ZingZillas
-
Series 4: 12. Belle of the Ball
A band of primate friends play music on their tropical island. Panzee wants to sing a magical waltz - but how can she be magical without a magic wand?
The ZingZillas wake up and ask Todd for an idea for a song. Todd is worried his machine will not work so he decides to use a magic fairy wand. Sadly the wand does not work and Todd's machine does not produce a single idea. However, the wand gives Panzee an idea. She is going to write a song about a magic wand.
DJ Loose introduces Bond, a string quartet, who are going to play a waltz. To demonstrate the waltz two dancers in full evening dress dance too. Panzee is thrilled with this. She thinks they look like a fairytale princess and prince.
The ZingZillas gather together in the clubhouse. Panzee wants them to play a song about a Princess Belle and Prince Charming waltzing the night away. The song is wonderful. Now all Panzee needs is a magic wand to finish off the story. But the magic wand Todd used is broken.
Todd reappears on the screen. He has mended the wand and is ready to make the machine work. Panzee is thrilled Todd has fixed it. Now that the wand is mended she can borrow it and sing the Big Zing. It is time to play!
First shown: 3:55pm 22 May 2012
Available for 14 days
Duration

11 mins
Ways to watch and tools