Media Player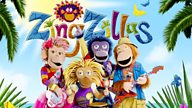 ZingZillas
-
Series 4: 5. You Need a Hat
A band of primate friends play music on their tropical island. The ZingZillas want to sing a song about hats, but poor Todd has lost his favourite hat.
Todd's ideas machine stops working and Todd realises he is going to have to put his thinking hat on. He looks round for his thinking hat, but it has gone. Panzee suggests that while Todd looks for his hat, they should write a hat song.
DJ introduces Mariachi El Mexicano. They play mariachi music and wear large-brimmed Mexican hats. Tang thinks this will be perfect music for their hat song.
Back at the clubhouse, Zak tries to come up with lyrics for the hat song. The other ZingZillas offer up a list of different hats - bonnets, boaters, bobble hats, berets and balaclavas. Soon Zak has loads of hat ideas for the hat song, but Todd still hasn't found his thinking hat.
First shown: 3:55pm 27 Apr 2012
Available for 17 days
Duration

11 mins
Ways to watch and tools