Media Player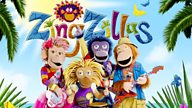 ZingZillas
-
Series 3: 12. Brush Your Teeth
A band of primate friends play music in their tropical island paradise. The ZingZillas want to play a really fun song called Brush Your Teeth.
The ZingZillas wake up and ask Todd for an idea for a song. But when they switch the TV on, Todd is not there! Suddenly he dashes into shot. He has been in the bathroom brushing his teeth. The ZingZillas love brushing their teeth and they decide that they want to sing a Brush Your Teeth song. Drum already has her toothbrush ready! The others tell her to keep it safe.
In the glade, Zak and Tang watch Peter Moss play the banjolele. Although it is a little instrument, it makes a big sound and they love its fun furious music. It will be perfect for the Brush Your Teeth song. The ZingZillas gather together in the clubhouse to play Brush Your Teeth. It's a song about how much fun it is to brush your teeth! The ZingZillas love it and are really excited about playing it in the Big Zing. They think they are ready, until Drum discovers that she has lost her toothbrush - and she won't perform without it.
First shown: 8am 6 Dec 2011
Available for 15 days
Duration

11 mins
Ways to watch and tools