Media Player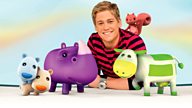 Iconicles
-
19. Scott's Bedtime Routine
Explorer Nat has fun with the Iconicles and learns about the worlds in which they live. Scotty the puffin loses his special feather.
There is a big search underway at the Water's Edge as Scotty the puffin loses his special feather that he has had since he was a baby - he just cannot sleep without it. His friends are all amazed that such a grown-up puffin needs something to help him sleep, but they do not realise that their laughter has hurt Scotty's feelings.
Meanwhile, Nat is in a singing mood and invites Miss Moo through the Iconi-Screen to hear his song about someone special. Miss Moo thinks the song is about her and gets upset when Nat sings a song about another Iconicle instead. Will Nat realise how upset Miss Moo is before she returns to the farm?
First shown: 3:45pm 1 Sep 2011
Available for 24 days
Duration

25 mins
Ways to watch and tools