Media Player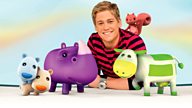 Iconicles
-
12. Sleepover Showdown
Explorer Nat has fun with the Iconicles and learns about the worlds in which they live. The animals are having so much fun that they decide to have a sleepover.
In the Wild Wilderness, the animals decide they are having so much fun together that they will have a sleepover to continue the fun. But when they can't decide what kind of sleepover to have, Team Wilderness quickly falls apart, leaving it to Skye and Rumple to bring the friends back together again.
Meanwhile, Nat is having trouble keeping count of his collection of bottles. He invites Skitter the squirrel to come over and help, but Skitter may not prove to be the best assistant - especially when he discovers Nat's rare nut collection.
First shown: 3:45pm 23 Aug 2011
Available for 6 days
Duration

25 mins
Ways to watch and tools