Media Player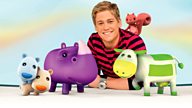 Iconicles
-
7. Dive, Dive, Dive
Explorer Nat has fun with the Iconicles and learns about the worlds in which they live. Splish and Splash are very nervous about jumping from the high dive.
Splish and Splash, the polar bear cubs, discover that while they may be small, they both have a lot of courage! When Salty the seal doesn't notice their initial nervousness about jumping from the high dive at the Water's Edge, Scotty the puffin helps the brave little cubs realise that they must speak up and acknowledge their fears.
Meanwhile, at the Iconicarium, Nat's pride gets him into a sticky position when he promises to sit in for the drummer of his friend's band - but rhythmless Nat has actually never played the drums before! Even with impromptu lessons from percussionist extraordinaire Skitter the squirrel, Nat's drumming is way off beat. In the end, Nat follows the cubs' lead and comes clean with his friend, only to find that what his friend really needs is a guitarist - Nat's speciality!
First shown: 16 Aug 2011
Available for 19 days
Duration

10 mins
Ways to watch and tools