Media Player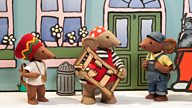 Rastamouse
-
Series 1: 31. Rubbish Playground
Stop-motion series featuring a crime-fighting special agent who plays in a reggae band. The Easy Crew must stop a messy mouse dumping rubbish all over the island.
Bandulu laments that there's only one measly swing at the orphanage. The Easy Crew are trying to figure out a way to find more things for the orphans to play on, when they are summoned to the presidential mansion, where Wensley Dale's exit is blocked by a pile of discarded tyres and oil drums.
Suddenly there's a crisis as rubbish appears all over the island. The Easy Crew analyse the rubbish, helping Rastamouse come up with a smart plan to clean up the whole of Mouseland - and in the process, they bring some joy to the orphans.
First shown: 15 Jul 2011 1 day left Duration 10 mins
Ways to watch and tools