Media Player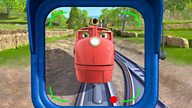 Chuggington
-
Series 2: 19. Rolling Reporter Wilson
Children's animation in which the trains talk, think and don't need drivers. Border Bridge is reopening and Wilson will make a live report.
Border Bridge is reopening and Wilson has been given the special job of using the new 'rolling reporter' car to make a live report, which will be broadcast on Vee's boards all over Chuggington.
Wilson takes the car out to practise and comes across Calley training Hoot and Toot. When an emergency call comes in, Calley asks Wilson to look after the twins. They offer to help Wilson practise his report, but instead they run off with the camera car and end up lost in the ice cave. Happily the camera is transmitting and so, using Vee's boards, Wilson is able to track them. He rescues them and the car and manages to get to the bridge just in time - and Rolling Reporter Wilson is on the air!
First shown: 7:50am 6 Dec 2010
Available for 20 days
Duration

10 mins
Ways to watch and tools