Media Player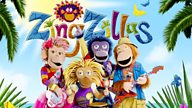 ZingZillas
-
Series 2: 5. Auntie Dot's Special Show
A band of primate friends play music in their tropical island paradise. Panzee organises a special show for Todd's Auntie Dot.
Todd's Auntie Dot is spending the evening on ZingZilla Island so Panzee has organised a special show for her. There will be songs by the ZingZillas plus a special act by the Moaning Stones, Granite and Gravel. Todd is master of ceremonies and quickly starts the show with a whack on his big gong - everyone, including Auntie Dot, shakes. Panzee desperately wants the show to be perfect but is already worried that Todd's overenthusiastic gonging may spoil it. There is no time to worry though because the ZingZillas are up first.
They have all been practising and are all ready so, as the island erupts with fireworks, the ZingZillas rush onto the stage to perform their first song - the 'Rock Guitar' song. Zak plays his 'Rock Broom' throughout and Auntie Dot absolutely loves it. Panzee is thrilled the show started so well but quickly becomes concerned again when Todd does further overenthusiastic whacks on his gong whilst introducing Granite and Gravel's mango-blowing act.
They have to try and blow a mango into the back of a football net. Granite goes first, and his gentle blow rolls the mango into the back of the net. Gravel, however, gives a massively powerful blow and not only blows the net away but also blows Auntie Dot off her chair.
The show is otherwise going really well and with only one song left, Panzee is confident that nothing can go wrong - until Auntie Dot requests a performance by her favourite nephew Todd.
First shown: 5:15pm 22 Oct 2010
Available for 25 days
Duration

25 mins
Ways to watch and tools