Media Player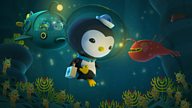 Octonauts
-
Series 1: 1. The Whale Shark
Animated deep sea adventures with Captain Barnacles and his band of explorers. Dashi is swallowed by a whale shark so the Octonauts venture inside to rescue her.
Animated deep sea adventure series. Captain Barnacles and his intrepid band of explorers roam the oceans in search of adventure and fun. Whether it's a perilous voyage to the bottom of the sea or the piratey pursuit of a giant squid, the Octonauts leap into action and always prove that eight heads are better than one.
When Dashi is accidentally swallowed by a whale shark, the Octonauts venture inside the huge fish to rescue her.
First shown: 4.50pm 4 Oct 2010 Over a year left Duration 11 mins
Ways to watch and tools